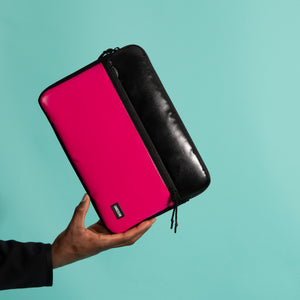 A SUSTAINABLE LAPTOP SLEEVE
Our sails kept people and goods dry for years. Our tent cloths ended up on the factory floor like leftovers. They both get a new life as a durable laptop sleeve. From now on, they protect your laptop against scratches and bumps.

This sleek sleeve from UNBEGUN is available for both 13-and 15-inch laptops, the new 14-inch MacBook Pro, the new 15 inch MacBook Air And the new 16 inch MacBook Pro. The sleeve is one-of-a-kind and made of super-sturdy, water-repellent residual material. The sleeve is lined with cushioning recycled foam material.

Keep your phone, AirPods, or Magic Mouse securely in the front compartment. By the way, your wallet and phone charger also fit with this. The main compartment is lined with a soft fabric and therefore has a stylish appearance. Both compartments are lockable with a high-quality zipper. The zippers are equipped with handy zipper tractors, so you can reach anywhere quickly.
CURIOUS HOW WE DO IT?
The laptop sleeve is proudly handcrafted and entirely locally sourced. The residual materials are cut to size using patterns. If necessary, they are still washed and redone by hand. One of UNBEGUN's seamstresses is Maartje. The former theater costume designer has been making bags for UNBEGUN for a number of years from her workspace just outside the city. Read her story on the page How it's made.
How it's made