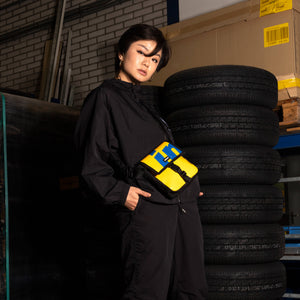 The UNBEGUN Flight bag
Planning a city trip to Copenhagen or booking your favourite festivals for the summer? The UNBEGUN Flight Bag is your go-to companion to hold all your essentials. Come rain or shine, this shoulder bag has got you covered! It was crafted from water-repellent material previously used to cover Amsterdam market stalls, and will keep all your items safe and dry. Simply stash your phone or passport in one of the 3 compartments. There's plenty of room for your wallet, AirPods, keys and sunglasses, too. The main compartment and the easy-access pocket on the back feature a quality zipper with unique zip pulls. The bag closes with a flap closure with a plastic buckle. The UNBEGUN Flight Bag is made from repurposed materials to and is 100% handmade in Amsterdam.
CURIOUS HOW WE DO IT?
So our bags are handmade and locally produced. But how? You may be wondering. Well, after the market stall covers have been washed and scrubbed, they're cut into shape using custom made patterns. They are then sown together by one of our (very gifted) seamstresses. Maartje, a former costume designer, is one of them. From her studio on the outskirts of the city, she's been making UNBEGUN bags for several years now. Read her story in How it's made.
How it's made