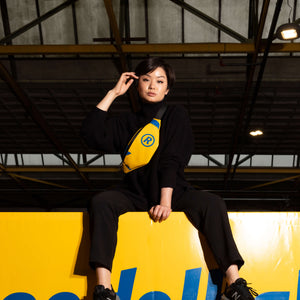 The fanny pack
Still a hallmark for its practicality, this classic fanny pack can store all your essentials, from keys to money. Not to mention items like your beloved smartphone and really everything else that keeps you online. Available in multiple colorways, this bag has all your festival needs covered. The fanny packs are produced within 5 kilometres from Amsterdam. By hand. Yes, we're really old skool.
CURIOUS HOW WE DO IT?
So our fanny packs are handmade and locally produced. But how? You may be wondering. Well, after the market stall covers have been washed and scrubbed, they're cut into shape using custom made patterns. They are then sown together by one of our (very gifted) seamstresses. Maartje, a former costume designer, is one of them. From her studio on the outskirts of the city, she's been making UNBEGUN bags for several years now. Read her story in How it's made.
How it's made